20.06.2019
MoboMarket PC App Archives
MoboMarket PC App Archives
MoboMarket-All new one stop Android market
Moborobo developers are definitely on fire with the number of Apps making their way to Android smartphones. Last time, I covered how simply the Moborobo PC suite transfers and syncs your data with your desktop. This time around, a new product called MoboMarket is all set to give you an alternative to standard Google play store. I know, Google Play store is already loaded with about 6,00,000 applications and now no-one would ever catch it so easily. With that in mind, MoboMarket surely has some cool features that makes it stand beside the Google play store.
MoboMarket
So, what is MoboMarket? It contains apps and games and has a nice and intuitive user interface just like the way you have in Google Play Store. Surely, the initial numbers of the total apps and games isn't that impressive at first but I'm damn sure that it will improve over time and quickly. This one stop MoboMarket includes app manager which combines a number of useful features right from the start including downloads, updates, installations and removals of various Android applications and games.
User Interface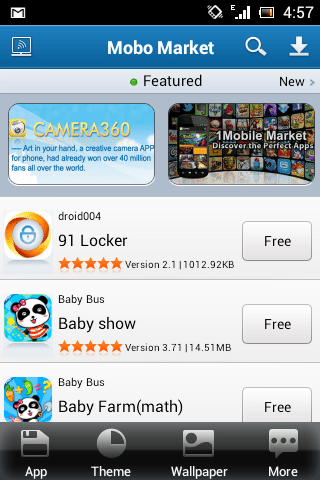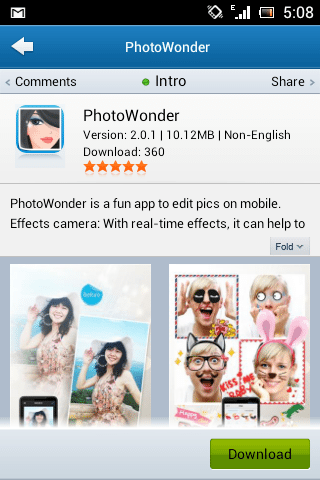 MoboMarket comes up with the latest tabbed layout which is very useful. Three tabs consisting of featured apps/games, new apps/games and hot apps/games will definitely boost your user experience. In addition, every tabbed layout contains list layout to list out respective applications and games, they are accompanied by a simple free button. Tapping on it starts the respective download instantly. The bottom bar of the app is filled with four main categories of the market. They're dubbed as the App, Theme, Wallpaper and More. The App tab is selected by default and it is used to show the apps and games from the MoboMarket repository whereas the Theme tab contains a number of lockscreen themes to choose from. The Wallpaper tab is certainly filled with various wallpapers you can use for your Android device and last but not the least the More tab opens internal settings of the MoboMarket. Both Theme and Wallpaper tabs can be further sorted according to the New, Ranking, Features and Category of the Themes or Wallpapers as well.
Settings
MoboMarket allows you to delete apk files after installation. It is possible to download updates of the various apps and games through MoboMarket automatically. It's download manager easily helps you out to either stop, delete or cancel the ongoing download. MoboMarket can also be used with Moborobo desktop tools to connect to PC or use WiFi. Enabling the update alert in settings offers notifications for available updates of the installed apps/games as well.
Compatibility
MoboMarket is compatible on almost all of the Android smartphones. I don't know how it performs on the tablet but on Android smartphones, it has surely got the place on my droid beside the Google Play store.
Give try to MoboMarket now
More images of MoboMarket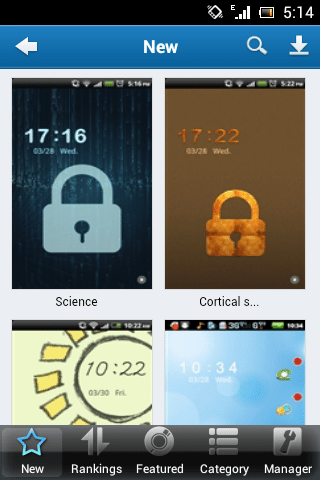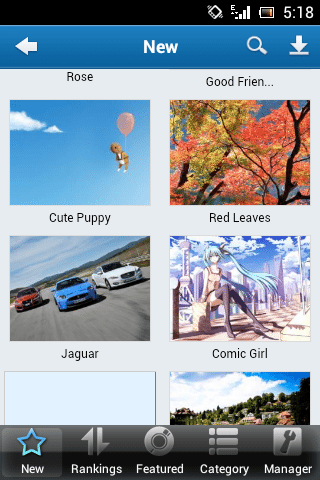 Update 10/22/2012
Recently, a new version of the Android PC manager, Moborobo 2.0.7, was released for Android Users! These new updates will bring ringtone and wallpaper downloads, as well as an online video service to Android users. Most of all, these contents are free to our users.
By teaming up with PandaApp.com and MMOSite.com, Moborobo Inc. has further expanded its Android resource market with even more download services. Now, Moborobo Inc. has created a comprehensive Android resource market covering nearly all aspects of Android usage, including apps, games, ringtones, wallpaper, videos, and themes, giving Android users greater choices in their daily digital life. Moborobo also gives users a fully functional media/file management feature, to help users select, apply, or delete their ringtones/wallpapers after they are downloaded from Moborobo Android resource market.
In combination with this comprehensive Android resource market and media/file management feature, Moborobo integrates a complete contact backup/restore system, as well as application controls that include installation, removal, and updates. Moborobo includes a complete data management package that provides access to calls, messages, and call logs, but also the ability to send messages from within the software itself and live streaming and screenshot capture for Android devices. Completing Moborobo's already-impressive arsenal is its ability to integrate and handle iOS devices, and even transfer contacts from an iOS device to Android. All these features bring a new concept of "The All-in-One Smartphone Management Tool" for both Android and iOS users.
A young and passionate blogger who loves writing about Android and Geeky Stuff.
Latest posts by Pavan Bawdane (see all)
Categories Android, Technology14 CommentsИсточник: [https://torrent-igruha.org/3551-portal.html]
,
MoboMarket PC App Archives
Managing your phone and its data using a computer, sharing files, backing up folders, anti-virus scanning, keeping archives of SMSs, etc. can be useful. But unless you have a dedicated software provided by the company (e.g. Sony has software for managing its Android devices), it might be time-consuming to open the folder each, and copy-paste files manually. Moreover, a user with less of expertise with technology would be unable to make archives of data like SMSs, WhatsApp records, etc.
Moboplay for Windows PC
Whether you have been provided with dedicated software for connecting your phone to your PC, Moboplay, with its added functionality is a must install for your PC. As a 20MB file, it does way more than what we could expect of.
Moboplay for Android and iOS helps with the general transfer of media and files to and from the PC and mobile device, helps clean up junk folders, takes screenshots from the mobile device, manages contacts, helps create archives of SMSs and much more.
Sync Android & iOS devices with Windows PC
Moboplay has quite an 'easy to use' interface. The features and steps to use them are as follows:
Connect the Android device to the PC. If you have a USB cable, it could be connected first or else the app has an option to connect using WiFi.

To connect using the Wifi, launch Moboplay and select the option 'Wifi connection'. It will show a QR code which could be scanned to recognize the mobile device.

One the device is connected, we will have to enable USB developer settings to access all functionalities of the phone from the Windows PC. This procedure is not needed for simple media and file sharing, but for other advanced options. To do this, go to settings on your Android mobile phone and click on the build number 4-8 times so that it enable the developer menu.

Click and open the Developer options which will appear after the previous step.
Enable USB debugging by clicking on the option as shown in the screenshot below.
After this is done, the Moboplay app on the PC will show a 'Connecting' status and will need a few seconds to sync all files and data on the mobile device.
Once this process is completed, under the 'Device' section you will be able to access the files, contacts, etc.
The 'Installed apps' tab shows the list of all third party applications installed on your mobile device. They can be uninstalled or updated at the click of a button and you don't have to open the Play Store to handle each app individually.
The 'System apps' tab displays the list of system apps.
The Updates tab shows the list of all apps pending update. If there are Pending updates, you can update them with the click of a mouse.
The next 5 tabs show options to handle the media files in the mobile device. They could be played, set as ringtones, and so on.
The Contacts tab shows the list of contacts with an option to send them an SMS or edit the details all in one row. You can create and download the archive of all your contacts here.
The Messages tab shows the list of SMSs. You can download an archive of the SMSs too here.
MoboPlay is useful in the sense that it brings all functionalities in order and lets you sync and manage your data and apps easily from one window. If you are an Android or an iPhone user, you definitely want to take a look at it.The free software can be downloaded here. If you need more information, the functions of this All-In-One Smartphone Management Tool have been described in our forums.
MoboGenie is another Android Manager for Windows PC that may interest some of you.
Источник: [https://torrent-igruha.org/3551-portal.html]
MoboMarket PC App Archives
Nowadays people want to watch videos all the time. They are looking for good applications which could enhance their experience and provide them with the best video quality. In this regard, MX player has come into existence into order to … Read More
Most of the Android devices come with no market pre-installed in them. Markets are very essential in order to enable you to download the apps which you want. However, in this case, it is very important to choose a market … Read More
Mobogenie is undoubtedly one of the most versatile applications which you will come across in the Android market. It not only provides you a wide range of features but it also makes your life easier by enabling your to perform … Read More
It would not be wrong to call Mobizen Android application as one of the most versatile apps in the Android market. The application is not only useful, but also fascinates the users with its amazing and intriguing features. How many … Read More
Andy_46.14_21.exeAndy_46.14_21.exeAndyOS, IncAndy_46.14_21.exe1.0 MB -- andyroid.net -- 7:07
Источник: [https://torrent-igruha.org/3551-portal.html]
.
What's New in the MoboMarket PC App Archives?
Screen Shot
System Requirements for MoboMarket PC App Archives
First, download the MoboMarket PC App Archives

You can download its setup from given links: