07.03.2019
Any video converter professional Archives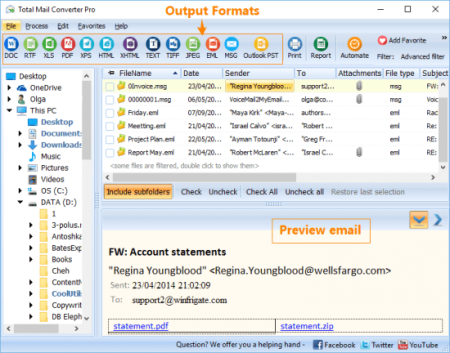 any video converter professional Archives
Comparing the Any Video Converter to RealPlayer
As digital video expands into more aspects of our lives, the importance of video converters grows. With new, innovative formats, playback devices and our demand for mobile convenience, comes the need for an increased sophistication in video file converters.
Like many products, the Any Video Converter (AVC) is available in tiers of capabilities and pricing. There are three versions: Free, Any Video Professional for $29.95 and Any Video Ultimate costing $59.95.
This comparison will be between the free Any Video Converter and the free RealPlayer.
STARTING TO WORK WITH THE FREE ANY VIDEO CONVERTER
The free Any Video Converter has simple step-by-step directions on the start-up window.
The start-up window directs you to click on the icon buttons for the three basic steps in the process.
Add Video Files
Choose an Output Profile
Convert Now!
Couldn't be easier.
Before working with files, I clicked on the Add URLs icon to test downloading from specific websites through the Firefox browser, but I could not get this to operate properly all the time.
Several attempts to download the "Moneyball" and "Red Tails" movie trailers from Metacafe.com resulted with "Download video failed." in the Status column. Another error message, "Video download failed: Cannot find URL of video file, maybe need login." was shown at the bottom of the main window. My Windows 7 Professional system is using Firefox 10.0, the most current version.
I was able to use this Add URLs feature successfully on YouTube, so maybe there is a glitch with Metacafe.com and Firefox.
PICKING THE VIDEO FORMAT OR DEVICE TO CONVERT TO
Any Video Converter supports several of the common video and audio output formats, including HTML5 and both NTSC and PAL for DVD. The Output Profile button has the usual icons for device categories, but is a very limited list compared to RealPlayer.
In particular, in the mobile phones category, there is only a single, just one, profile available. It's a generic MPEG-4. No long list of various brands and models of smart phones, let alone tablets, portable media players, set top devices, etc. Just a "Mobile Phone MPEG-4 Movie (*.mp4)."
It was a surprise to see this limitation with Any Video Converter.
There are provisions in the Video and Audio Options menus to switch from the MPEG-4 codec to XVID, to change the bit rate and frame rate, and to select either one or two passes for encoding when available for the output format.
The input video we are using is the 1080p HD trailer encoded in MP4/H.264 for the animation, "Sintel." "Sintel" is available from the Blender Foundation, and released under the Creative Commons Attribution license.
Adding video files and selecting output profiles is simple and direct.
EXECUTING THE CONVERSION TO ANOTHER FORMAT
After adding the "Sintel" video file, choosing the single mobile phone profile available, and setting other options, click on the large Convert Now icon, or chose Start Converting under the Convert menu to begin the process.
AVC does not display playback of the clip being converted, but does use a status bar that graphically displays the relative amount of content which has been converted. There's also a numeric percentage shown in the status bar. During the process, you're advised that it is ripping video and audio, and then when the conversion is completed.
The conversion was quick, taking about two thirds real time of the clip. The now converted file is stored in the My Video/Any/MOBILE_MP4 folder, which is automatically created. This makes accessing files for specific devices easy.
SPECIAL FEATURES OFFERED IN THE FREE ANY VIDEO CONVERTER
There are few special features available. AVC has a nice Clipping Video tool. It allows creating numerous trimmed segments, and then automatically adding them to the list of files to be converted.
It can also take Snapshots of video being played back in the preview window. Curiously, this doesn't operate if the video is paused, so you've got to grab them on the fly. AVC creates a unique folder for snapshots.
Other customizable settings for audio, video, subtitles, online video and more are available under Options in the Edit menu, or by clicking the Options button.
INTRODUCTION TO THE REALPLAYER VIDEO FORMAT CONVERTER
The free RealPlayer has its own video format converter. Just as dedicated converters have become more sophisticated, general-purpose media players must offer competitive features to keep pace with consumer demand.


RealPlayer provides several routes to first get your media into the converter, and select the conversion settings that meet your needs. Opening the converter directly lets you select the device you want to convert to. The details button opens another dialog window so you can further refine video and audio format, quality, resolution and bit rate. Next, either browse for the file through Add… or drag the file into the converter from its location, or from the Library.
USING THE REALPLAYER LIBRARY TO ADD VIDEO CLIPS
As an interface, the library's ability to display thumbnail clips of the videos is a convenient and efficient tool for helping convert formats. You can drag & drop clips directly to the open video converter, or use several menu paths.
You can also select a clip, and then click on "Convert to…" under the main Library menu on the left.
CONVERTING YOUR VIDEO CLIPS TO A MOBILE DEVICE
This is really the easy part, because now all you have to do is click on the Start button. When the conversion begins, the video will be processed into the Google Nexus One format that was selected through details when the video converter was first opened.
When the conversion is complete, the finished file is place in the folder you designated, along with being placed in the RealPlayer Library for viewing.
OTHER CAPABILITIES BUILT INTO THE FREE REALPLAYER
Aside from the RealPlayer Converter, we haven't talked much about what the free RealPlayer itself can do. Because it is an all-around media player, able to handle nearly every digital video and audio format, RealPlayer can perform a number of other tasks that are increasingly important.
Download videos playing on websites in a single click
Trim the head and tail of video clips to make custom segments
Upload videos to social websites like, Facebook, YouTube, Twitter, etc.
Easily email video clips
Organize the Library and create Playlists
COMPARISON CHART FOR THE ANY VIDEO CONVERTER vs. REALPLAYER CONVERTER
| Compare | ANY Video Converter | RealPlayer |
| --- | --- | --- |
Price
FREE
FREE
Input File Formats
Input File Types
3G2, 3GP, AMV, AVI, AVS, DAT, DIVX, DV, FLV, M1V, M2TS, M2V, M4V, MKV, MOV, MP4, MPE, MPG, MPV, OGM, QT, RM, RMVB, VOB, WMV, WebM
AAC, M4A, PLS, EPL, AVI, CDA, IVR, MP3, MPA, MPG, MPEG, MPV, MPS, M2V, M1V, MPE, RA RV, SMIL, WAV, SSM, MP4, M4E, M4V, WMA, WMV, WAX, ASX, ASF, WM, WMX, MICROSOFT MEDIA SERVER PROTOCOL, MOV, QT, AU, AIF, AIFF, ACP, 3GP, 3G2, DIVX, DVD (RP+), AMR, AWB, QCP, EVRC, EVR, FLV, VOB (RP+), REALAUDIO LOSSLESS, MP2 (RP+), MP1, MPGA, MID, MIDI, RMI
Output File Formats
Output File Types
MP4, MPG, WMV, FLV, SWF, 3GP, 3G2, AVI, MPEG-1, MPEG-2, MKV, M2TS, ASF, WebM, HTML5 Embedded Video, MP3, WMA, AAC, OGG, WAV, M4A
RA, RM, RV, WMV, MP4, AAC, H.264, H.263, RealPlayer Plus H.264, 3GP, CELL PHONE, M4A, MP3, RealAudio Lossless, WAV, WMA
Conversion to Output Devices
Mobile and Set top Devices
Mobile Phone MPEG-4 Movie (*mp4)
Android, Apple, Archos, Barns and Noble Nook, BlackBerry, Creative Zen, Google, HTC, iRiver, KIN, LG, Microsoft Zune, Motorola, Nokia, Palm, PS3, PSP, Samsung, SanDisk Sansa, Sony Ericsson, Toshiba, T-Mobile, ViewSonic, Xbox, 3GP
File Format Processing Support
Pre-set Format Profiles
Yes
Yes
720p and 1080p HD Support
Yes
Yes
GPU Acceleration
Yes, NVidia CUDA
Yes, with RealPlayer Plus*
Multi-pass Encoding
Yes
No
Fixed and Variable Bit Rate Encoding
Yes – Audio Only
Yes – Audio Only
Calculator to Estimate Output Size and Time
Yes
Yes
Batch Processing
Yes
Yes
Video Quality – Sync, No Skipped Frames
Excellent
Excellent
Conversion Speed
Very Good
Good
Editing Capabilities
Trim Head and Tail of Clips
Yes
Yes
Crop Video Size
No
No
Makes Screen Grabs
Yes
Yes
Merge or Join Files
No
No
Adjust Brightness, Contrast, Color, etc.
No
No
Video and Audio Special Effects
No
No
Graphic Watermark
No
No
Create Subtitles
Yes
No
Other Features
DVD Ripping
No
No
DVD Burning
Yes
Yes, with RealPlayer Plus*
Hi-Definition Burning
No
Yes, with RealPlayer Plus*
Easy Upload to Social Media Sites
No
Yes
REMARKS ON FREE ANY VIDEO CONVERTER vs. FREE REALPLAYER
Although AVC is a dedicated converter and RealPlayer is first a media player, both did their job converting video file formats. On shear speed, AVC is the quicker of the two.
The products use a different interface design, but each is effective and simple to run in its own way. I do like the integration of RealPlayer's Library and Converter, and the graphical approach of being able to see thumbnails, along with drag & drop. AVC has a more conventional, menu driven approach.
Both will handle a variety of input and outputs formats, but the edge goes to RealPlayer on the input side. AVC's HTML5 embedded video output capability is notable, as this feature will rapidly become a necessity for many.
For mobile and set top output devices, there is a glaring difference in favor of RealPlayer. Any Video Converter has only one mobile phone and nothing for other mobile devices or set top players. RealPlayer offers extensive options for this feature, which is greatly desired by consumers.
*RealPlayer Plus is an upgrade available for $49.99 that adds DVD and High Definition burning, along with accelerated downloads and transfers to devices.
Источник: [https://torrent-igruha.org/3551-portal.html]
,
any video converter professional Archives
Any Video Converter
Handles videos from any source
AVC is a powerful and comprehensive video converter that incorporates an array of interesting features and tools. Converting videos into almost any format is straightforward, and they will seamlessly play on any device. Whether you're looking for a quick fix or a batch conversion, this software will meet your needs.
A user-friendly interface
The latest version of Any Video Converter offers a brand-new interface that is fast, powerful, and user-friendly. All of the features are conveniently available through the main window. When you first open the app, there are a few helpful tips that will pop up, which will guide you through the various tools.
The interface is split into two tabs to make it easier to convert and play videos. Simply click the 'Videos' button to add a new clip, or drag files from your file-manager or desktop directly. Once you test out a trial run, you can import videos and convert them in no time.
If you want to customise your video even more, you can use the clipping button beside each of the uploaded files. This will open a mini player that allows you to preview the footage and decide on your own start and end points. This great for trimming out unnecessary content; it'd a good piece of control to include in an app like this.
With the magic wand tool, you can crop the video, add a watermark, or apply some attractive filters. These filters range from subtle enhancements to more intense effects. The premium version of Any Video Converter includes extra tools as well, such as the ability to remove DRM protection.
Batch convert any formats
Any Video Converter stands true to its name. It can convert clips of all formats including MOV, M2TS, MVF, OGM, MOD, FLV, TS, TP,DVR-MS, Divx to more supported file formats like AVI, WMV, MPEG-1, MPEG-2, MKV, 3GP, and 3G2. You can even convert videos into the MP3 format.
By converting files into these formats, you'll be able to access them from any iOS, Android, or Blackberry mobile form or tablet. Whether you have an iPhone, Android, Samsung, Roku, or any other device you can quickly access the format you need.
With AVC, you don't need to know what video codec, bitrate, audio codec, sample rate, or frame rate. You only need to input the desired device.
When you use AVC to convert a batch of videos you won't feel any lag, considering it doesn't consume much memory. You can open your browser and continue checking out the news or enjoying videos. You can even do more powerful tasks simultaneously, such as designing a website.
Record videos
One of the solutions that AVC offers that other converters don't is video recording. Many sites do not allow you to download videos because of encryption algorithms. The software takes care of this issue by using technology to detect video playback and will mark it with a red rectangle. You then use a hotkey to start recording. So it works similarly to a screen recorded with a pre-cropped view. Due to that, it won't remove the playback features like the timeline or buttons you'd find when you go fullscreen on YouTube.
AVC correctly detects video area of most online streaming video sites correctly. If it happens not to, you can manually adjust the rectangle to your needs. AVC will record audio along with the video, and it will be saved as an MP4.
A powerful YouTube downloader and DVD ripper
The software also features an online video downloading feature, where users simply need to enter a URL from YouTube or Vimeo.
There are some alternative programs that require you to install a plugin if you want to download YouTube videos. Luckily, AVCdoes a better job. The program adopts a true-path detecting script to identify available downloads for the pasted YouTube URL. You'll then simply chose your desired format and quality.
You can also use AVC to rip a DVD. There are no problems ripping copyright violation.
AVC claims to respect the rights of film companies and artists, so it aims not to violate the rights. You should not copy DVDs for commercial purposes.
Buggy Playback
When it comes to the conversion utility of this application, it works perfectly. Another feature that AVC offers though is video playback. You can click the 'Play' tab in order to watch any video from your computer. You can even watch a real-time preview of a clip, before conversion.
Unlike programs like VLC Media Player or Quicktime , this function tends not to run smoothly. Sometimes you will see a blank screen when you try to play a video, even though all controls indicate that it's working normally.
A good converter
AVC is full-featured yet totally free, and because of this, it's more powerful than even some of the most professional video converters. This comprehensive encoder allows you to rip files from discs or download them from popular sites like YouTube, Vimeo, Quicktime, Dailymotion, and Facebook.
You can apply filters and effects, share your videos to your network, or burn them to a DVD in almost any format. You can download and convert videos in batches and enjoy a huge array of clearly-presented features.
If you're seeking an alternative to this program, consider Handbrake or Full Video Converter.
Источник: [https://torrent-igruha.org/3551-portal.html]
any video converter professional Archives
Any Video Converter Professional Registration Code Free Download
Any Video Converter Professional Keygen Free Download
Any Video Converter Professional Registration Code Free Download Full
Nov 11, 2019  Any Video Converter 6.3.5 Crack + Serial Code Free Download Here! Any Video Converter Ultimate 6.3.5 Serial Key is a professional and Ultimate tool hat support all the converted format that why its other name is All in one software.It too easy to convert all formats.
Dec 13, 2019 Any Video Converter Crack. Any Video Converter Crack is a decent video changer or converter started by Anvsoft Inc. It is a product that completes the recordings from your PC or download from the web and transformed them into an organization that you like.
Jan 03, 2016 Any Video Converter Professional License Code and Registration Name Free Download. Any Video Converter Pro Overview: Any Video Converter Professional Crack is the world's best video converting tool. It is helpful to convert all kind of videos into hundreds of videos formats.
AVC Any Video Converter Ultimate Any Version Serial Keys
Jan 20, 2020  Any Video Converter Ultimate Serial Key. Any Video Converter Ultimate Crack incredible programming for changing over different sound and video organizations to each other. Product bolsters most configurations that make it simple for clients to discover. Most configurations are bolstered by this product, which shows the intensity of the product.
Any Video Converter Ultimate (AVC) :is an All-in-One DVD ripper and video converter which helps you rip DVD and convert various video formats to MP4, AVI, WMV, 3GP, 3G2, FLV, MPG and SWF. Any Video Converter Ulti is the best DVD Ripper and video converter for your iPod, iPhone, Apple TV, Zune, PSP, PS3, all pmp, game consoles and cell phones. Besides, you can directly create DVD with DVD menu from various video formats and enjoy on your home DVD player.
AVC Registration Details : (Do Not Change Name)
Name :Vovan
Licence Codes :
000K43-TDCF4N-GVHW31-20YP49-D3RPEV-Z9HAFU-VT8KUM
000K43-TDCF4N-GX5J1G-Y1K9T4-PUGGQW-CPTJQR-W2FBZ3
000K43-TDCF4N-GURFPK-TPG9PB-WBECF0-95NCGW-AJBX1V
000K43-TDCF4N-GPB101-ZA8UFP-VWW9HV-9F1HMH-PFHHKT
000K43-TDCF4N-GWQWG8-XDABE6-6B10FH-N9KNTZ-Q62321
000K43-TDCF4N-GWCWMF-HJFDMC-FR0TNQ-V3T3WT-MJXD47
000K43-TDCF4N-GYMJ77-ND1WHQ-B5FEP3-YUMU1R-FK8KR1
How to Activate Crack, Register AVC for free ?
Install Latest Version of Any Video Converter Ultimate trial.
Turn Off Internet Connection (For a While)
Enter Vovan as your name and any serial key from above in Registration Window.
Click Register ! Done 🙂
Please Note :These AVC Any Video Converter Keys will work on all upcoming latest versions along with older versions too. 😀
AVC Official Latest Setup Download Link !
Download Any Video Converter Ultimate Latest trial Setup.exe (33 MB)
Any Video Converter Ultimate Serial Key
Any Video Converter Ultimate Crack incredible programming for changing over different sound and video organizations to each other. product bolsters most configurations that make it simple for clients to discover. Most configurations are bolstered by this product, which shows the intensity of the product
. A portion of the configurations bolstered by this product can be AVI, MPG, RMVB, MOV, MKV, WMV, AVI, MP4, FLV, 3GP. Obviously, you better consider downloading this product and you don't have to consider group support. Backing for convenient sight and sound gadgets is additionally a standout amongst the most essential highlights of the product. It can likewise download and change over your recordings to Youtube.
Any Video Converter Ultimate Full Version Features
Good with more than 200 video designs;
multiple times quicker than customary converters;
Protect 100% of the first picture and sound quality;
Upgraded yield profiles for all standard gadgets.
Any Video Converter Ultimate License Keycan assist you with watching DVD films and tune in to music from CDs anyplace by changing over Blu-ray&DVD&CD to prevalent configurations like MP4, M4V, AVI, WMV, MOV, WMA, MP3, and so forth.
Additionally, it can copy media documents to clear the DVD plate and play it on any DVD player. Any Video Converter Ultimate enables you to reinforce your DVD by copying content starting with one DVD then onto the next unused DVD.
Record web-based gushing recordings, rental DVD and anything you can play. Great yield and impeccable synchronization.
Expel DRM assurance from both acquired and leased iTunes M4V motion pictures. Empower you to play in a motion picture on any gadgets and keep iTunes rentals for all time.
Any Video Converter Ultimate Keygen Online recordings are presently accessible in a scope of value levels.
Cluster video including, changing over, downloading and free DVD Menu layouts for tweaking
Quick speed transformation with AMD APP Encoder (Powered by Open CL) and NVIDIA® CUDA™ increasing speed innovation
Lifetime long utilization and free redesigns just as client administration and specialized help by means of email
Any Video Converter Ultimate serial key Screenshots
How To Crack Any Video Converter Ultimate 6.3.8
First Download Any Video Converter Ultimate Serial Key form below Links.
If You are using the Old version Please Uninstall it WithRevo Uninstaller Pro
After the Download Install the Program As Normal.
After Install Run the Software Run
Please Run the Keygen file & Registered the Any Video Converter Ultimate 6.3.8.
You are Done it. Now Enjoy the Full version.
Password:www.free4pc.org
Please share it. sharing is Always Caring
Any Video Converter Professional Keygen Free Download
You Also Like This Software!!!! Glary Utilities Pro Keygen
Direct Download Links!!!!
Any Video Converter Professional Registration Code Free Download Full
Mirror Download Links!!!! Download Here
Источник: [https://torrent-igruha.org/3551-portal.html]
.
What's New in the any video converter professional Archives?
Screen Shot
System Requirements for Any video converter professional Archives
First, download the Any video converter professional Archives

You can download its setup from given links: