17.07.2019
Advanced SystemCare Pro 13 Archives
Advanced SystemCare Pro 13 Archives
IObit Advanced SystemCare 13 Pro Review
Over time, Windows PCs become slow as you use them. It is a universal fact! Windows creates a lot of internal data every time you do something on your PC. Well, that's how it works for every OS. Indeed, there are several methods to clean such junk stuff and to speed up your PC. But, you may not get enough time to do that every day. In such a situation, IObit Advanced SystemCare 1​3 Pro is a useful tool to help you.
Advanced SystemCare 13 Pro Review: Introduction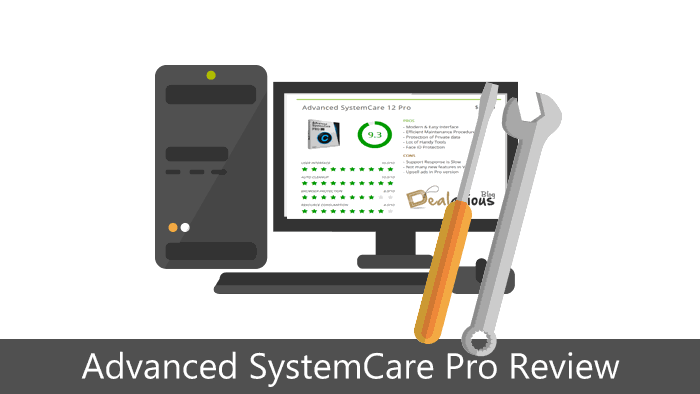 ​Iobit Advanced SystemCare Pro is a PC Cleaner and Optimization software. As we said, with time, there are a lot of junk files on your Windows PCs. There may also be some issues with the registry, privacy, and shortcuts. Advanced SystemCare Pro aims to deal with such matters as well. With this single tool, you can track the different issues. Not only find but also fix them with ease. Also, you can optimize your device to have better speed and performance. The best part here is, everything is automatic.
The review summary is given below.
​
Advanced SystemCare 13 Pro
$11.99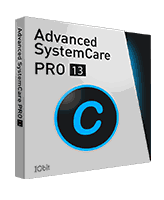 Browser Protection
8.0/10
Resource Consumption
9.0/10
Pros
Modern & Easy Interface
Efficient Maintenance Procedure
Protection of Private data
Lot of Handy Tools
Face ID Protection
Cons
Support Response is Slow
Not many new features in V13
Upsell ads in Pro version
Now, ​I will go through the different aspects of IObit Advanced SystemCare 1​3 Pro. ​I will also share ​my experience with this optimization suite. To start with, ​lets talk about the Installation and Setup of IObit Advanced SystemCare 13 Pro.
Installing Advanced System Care 1​3 Pro
For this Advanced SystemCare 13 Pro review, I am comparing it to other PC Cleaners. Advanced SystemCare 13 is the quickest to install and the easiest to configure among all of them. You have to download the setup file from the official website of IObit. The file size is just around ​48 MB, nearly ​10 MB larger than the size of the previous version. However, the installation takes a few seconds or so​ to finish the installation process on your PC.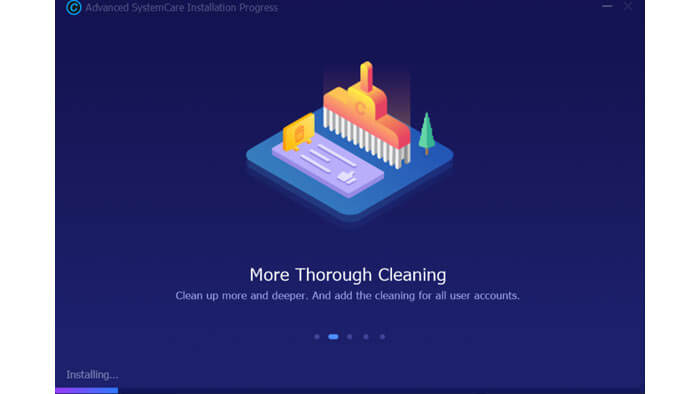 We tried ASC Pro ​13 on an Intel Gen i7-based Windows 10 x64 PC, and the install speed was great.
​Small Installer size and fluid design makes it super easy to install Advanced SystemCare 13. The installer is clean and does not include any bundled packages.
Advanced SystemCare 1​3 Pro Review: Features
​As a matter of fact, there are more than a few Optimization features in Advanced SystemCare 1​3 Pro. Moreover, it isn't possible to list out every bit of them. So, ​I will ​go through the features based on categories such as Optimization, Cleaning, and Utilities.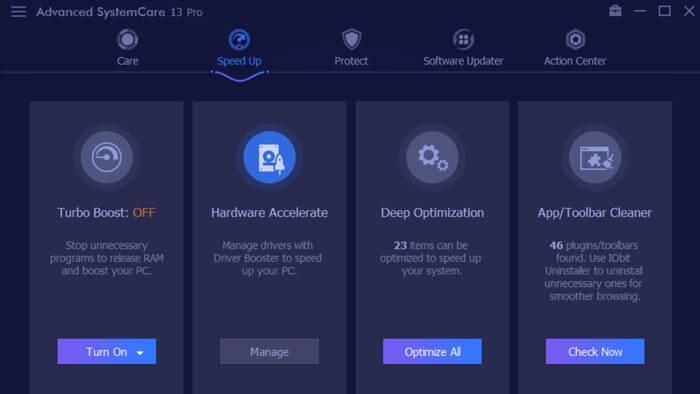 In this Advanced SystemCare 1​3 Pro review, this is the section where ​you can get the maximum boost in system speed.
Turbo Boost helps you to stop unnecessary services. Hence, it releases RAM. You can turn it on for regular monitoring. You can configure all actions.
Hardware Accelerator updates your device drivers. Accelerator module uses IObit Driver Booster. However, please note that Driver Booster is present as ​a limited free version. You have to purchase the full version separately.
Deep Optimization goes in-depth into applications and services. You can customize it to obtain the best operating speed.
Toolbar/App Cleaner is for removing malicious and ​harmful toolbars from your Web Browsers. Please note, IObit Uninstaller adds this feature. It is also present in a ​limited free version.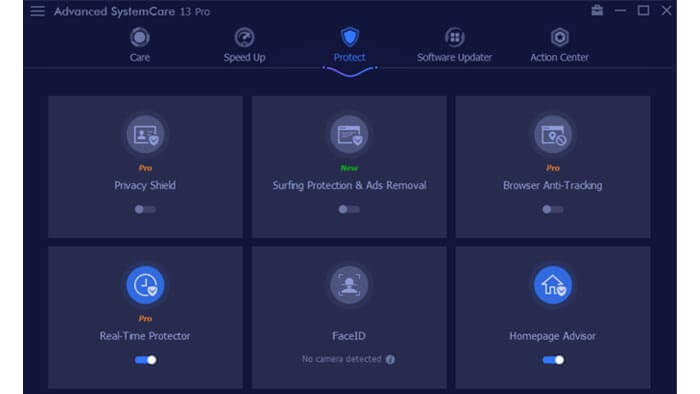 Advanced SystemCare 1​3 Pro comes with some cool features for device and data protection. Some of them are:
FaceID brings Facial Recognition technology into your computer. You can just look onto the PC screen to log into it. You have options to exclude certain periods and users. Also, you will also know if someone tried to log in to your account.
Real-Time Protection protects your device from malware
Home Page Protection
Browser Anti-Tracking
Surfing Protection and Ad Removal
Privacy Shield implements restriction on unauthorized access to your private data by apps and services.

​Email Protection is a new feature under Surfing protection. Advanced SystemCare can now protect your web emails from potential harm. However, keep in mind that you have to enable the IObit browser extension for the Surfing protection to work.
In version 10 this section also had Windows 10 Reinforce module. ​Since version 11 the Windows 10 reinforce module was renamed to Security Reinforce and was moved to regular scan section.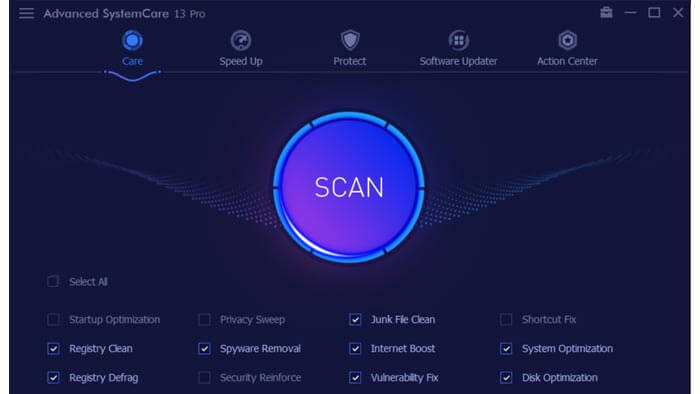 ​IObit Advanced SystemCare ​1​3 Pro finds out all issues in a single scan. In addition, from its main interface, you can pick the ​modules to scan. For instance, you can select Startup Optimization, Privacy Sweep, Shortcut Fix or Internet Boost. Also, you can pick all of them too. Once you press the Scan button, the ASC Pro 1​3 will start scanning all those sections.
​The available options are:
Startup Optimization
Privacy Sweep
Junk Files Cleaner
Shortcut Fix

Registry Clean
Spyware Removal

Internet Boost
System Optimization

Registry Defrag

Security Reinforce

Disk Optimization

Vulnerability Fix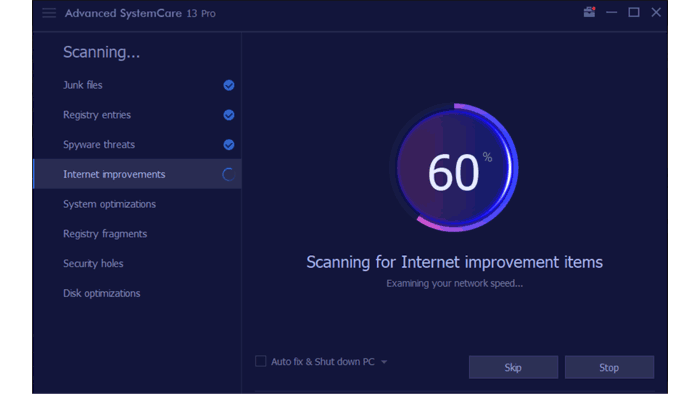 ​Depending on the errors your PC has, you can get the report in a few minutes or so. Now, it's your turn to decide whether you should optimize these sections and have better Personal Computing experience.
​I have performed multiple scans and i feel that the scan speed of version 13 is bit slower than previous versions of Advanced SystemCare. However, there is nothing to worry about. The average scan time will not be more than a few minutes.
A worthy point to note is that scanning does not affect other running apps. ​It does not cause any interruption to your computing experience. The selection process makes it easy to scan particular areas instead of running complete scans. Again, it is your choice!
​Presence of all scan options at once place and centralized action makes it convenient to fix all issues at once.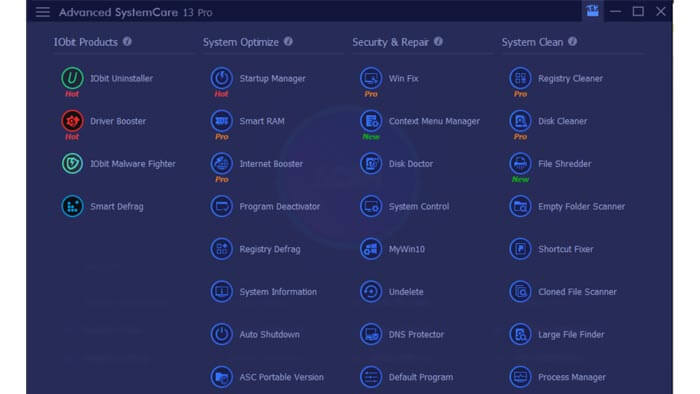 If you are a Pro user, you will love the Toolbox section of ASC 1​3 Pro. The Toolbox is an excellent collection of useful utilities. Some of the utilities are already present while you can download the rest as you need them. Some of the fresh ones are:
Smart RAM for Memory Optimization
Disk Cleaner
Large Files Finder
Auto Shutdown
Registry Defrag
Process Manager
File Manager
Undelete – File Recovery
​Please note that you have to purchase the applications under IObit Products tab separately. Clicking on these apps only downloads their Free versions.

​You can use this module to update out-of-date applications on your PC. Advanced SystemCare will automatically search for software updates and inform you. hence, all you have to do here is update them.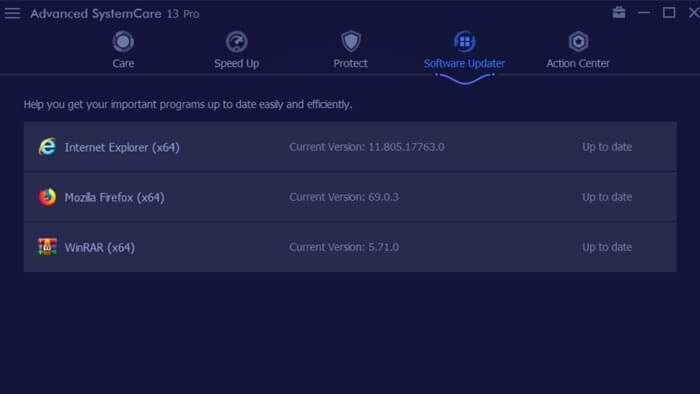 In short, the features of IObit Advanced SystemCare 1​3 Pro are cool. For the price you pay, you get a bunch of tools that make sense.
Advanced SystemCare 1​​3 Pro: User Interface
Just like other apps from IObit, Advanced SystemCare 1​3 Pro also has a classy User Interface. It comes with a multi-tabbed interface that leads to different sections like Speedup, Toolbox, Clean & Optimize and Protects. So, when you ​desperately need a solution, you can navigate to the corresponding tab and do the necessary. Also, IObit Advanced SystemCare 1​3 Pro uses a modular architecture for additional tools. You can download tools according to your requirements. therefore, it's a great feature to reduce left overs and resource consumption.
Advanced SystemCare 1​​3 Pro: Compatibility
You can club Advanced SystemCare with any third party antivirus application. In our Tests we had Bitdefender, Kaspersky, Vipre, McAfee, and Avira without any conflicts. However, Advanced SystemCare has issues with Malwarebytes.
​If you are using Malwarebytes, Installing Advanced SystemCare can be difficult task. It is detected and automatically removed by Malwarebytes being considered as a PUP. This is a simple case of false positive detection and an old and ongoing conflict between the two companies.
Conclusion: Should you buy Advanced SystemCare Pro?
​Advanced SystemCare 1​3 Pro is a useful tool to boost PC speed and clean it. In this version, IObit has included additional features such as FaceID. It is helpful to protect your PC from intruders. Similarly, it offers a bunch of features for digital identity protection and anti-spyware protection. In short, in a single package, IObit Advanced SystemCare 1​​3 Pro has every feature required for a better PC experience. If you are looking forward to boosting performance, you can surely count on this tool.
​Hence, in a single package, IObit Advanced SystemCare 1​​3 Pro has every feature required for a better PC experience. If you are looking forward to boost PC performance, you can surely count on this tool. Compared to other PC Optimization software, Advanced SystemCare 1​​3 Pro gives more features. In addition, you get all these benefits at a much cheaper price. Therefore, it is worth the money you are paying.
In this Advanced SystemCare 1​3 Pro Review, we are covering only the important facts. Have we missed something? Do let us know by commenting in the section below.
Источник: [https://torrent-igruha.org/3551-portal.html]
,
Advanced SystemCare Pro 13 Archives
IObit Advanced SystemCare Free review
IObit Advanced SystemCare Free is a pared-back version of the premium IObit SystemCare Pro, but it's still a powerful system optimization tool in its own right. With one-click scans, automatic cleanup and a raft of other tools for improving your PC's performance and security, it's an impressive offering that's well worth your consideration if you're starting to experience some system slowdown.
User experience
When installing IObit Advnaced SystemCare Free, you'll be asked if you want to install Opera. It's an excellent web browser, but if you're not in the market for trying something new, you can easily decline it. You'll also be prompted to sign up for IObit's newsletter, which will give you access to regular giveaways (optimization software developers are often generous with discounts), plus a free ebook, but again, you can opt out if you prefer.
Advanced SystemCare will place a small widget at the top right of your screen showing current RAM and CPU usage. This info is interesting, and checking it before and after a cleanup can show you the impact the software has had on your PC, but it can be distracting. If you find it annoying, you can easily dismiss it by right-clicking and selecting 'Exit'.
IOBit Advanced SystemCare Free doesn't have too many bells and whistles, but when it comes to cleanup tools, that's often an advantage; paid-for software is often bulked out with tools like partition managers that most users won't need and don't serve to improve PC performance.
A standard scan with IObit Advanced SystemCare will check for unnecessary startup processes, temporary files, broken shortcuts, broken registry entries and browser tracking cookies. Technically these are all things you could manage yourself using the tools built into Windows and your web browser, but IObit Advanced SystemCare makes the process much faster and more convenient, avoiding the need to trawl through different menus and settings.
Various other options are available, including registry defrag (not recommended if you have an SSD), security reinforce (which tweaks Windows' own security settings) and system optimization (which optimizes your PC's settings for speed, battery life and other performance metrics).
Unlike some free PC optimization software, which almost tricks you into upgrading to the premium product, IObit Advanced SystemCare clearly marks any options that are only available to paying users. It's a relatively small interface feature, but one that we appreciate.
The Speed Up tab reveals other optimization options, including a toolbar cleaner and driver updater. Each of these is an additional program, and clicking its link will open a new installer, but again, they are free to download and use. It just takes a little extra time to add them.
The Protect tab provides options including Privacy Shield, which prevents untrusted programs changing your computer's settings, and FaceID, which uses facial recognition to protect your PC from would-be thieves. Perhaps the most useful of these is the universal ad-blocker, which works for all the major browsers and can be activated by clicking a simple toggle.
Toolbox provides one-click access to every tool and option in a simple list. If you know exactly which tool you want, this is the quickest way to find it.
Overall, IObit Advanced SystemCare Free is a very impressive free PC optimization tool. It's less comprehensive than some paid-for alternatives, but that's not necessarily a bad thing; it doesn't nag you to perform scans when you're working on something else, and isn't padded out with tools you're unlikely to use. The options it does offer are well thought out, and an effective way to give your system a cleanup without trawling through options in Windows and your web browser.
The competition
Check out our full guide to the best PC optimization software
Источник: [https://torrent-igruha.org/3551-portal.html]
Advanced SystemCare Pro 13 Archives
Advanced SystemCare 13 Effectively Speed up Windows PCs and Protect Users' Online Privacy
SAN FRANCISCO – IObit, the world's leading system utilities and security software provider, today announces the release of Advanced SystemCare 13, which is a comprehensive system optimizer. The new edition mainly features deep PC cleaning and strong privacy protection with advanced and new technologies.
Junk files are produced every day on the system and can lead to a slow computer and poor PC performance. Advanced SystemCare 13 uses advanced technology to deeply clean up 26 types of junk files, such as Windows update caches, browser log files, and software leftovers. Compared with the previous version, the new edition detects and removes over 120% more junk files according to performance tests in IObit. With one-click solution, users can do the cleaning for all user accounts at once. Along with the enhanced Startup Manager, the 30% larger database of Startup Optimization further speeds up the system boot. Besides, Advanced SystemCare 13 can manage Universal Windows Platform (UWP) apps to reduce the CPU usage. The brand new Context Menu Manager enables users to manage the context menu easily.
Furthermore, Advanced SystemCare 13 protects users' digital fingerprints and user-specified sensitive data such as browser data, OneDrive, and contacts from unauthorized access. It can sweep privacy from over 200 software and 15 browsers including CryptoTab Browser and Brave Browser. Email Protection is newly added to help users detect and block malicious links and e-mails from suspicious senders. It can effectively prevent users from spam, phishing scam, and other email-borne threats. What's more, Spyware Removal and Real-Time Protector contain a 200% larger database to remove more threats including the latest Worm.Mydoom, Ransom.FileCrypter, and Trojan.Symmi.
"Deep PC cleaning is an essential function of a system optimizer, so we made a great effort to develop better technology to help users clean up all junk files on the computer," Said Bing Wang, the Product Director at IObit. "Advanced SystemCare 13 performs well and greatly speeds up the system according to our amounts of tests. Besides, Advanced SystemCare 13 can better secure users' online privacy with enhanced security features. We will keep working on a stronger system tool to improve users' computer experience."
Advanced SystemCare 13 is now available on IObit and Cnet. It provides full support for Windows 10, Windows 8/8.1, Windows 7, Windows XP and Vista.
About Advanced SystemCare 13
Advanced SystemCare 13 is an easy-to-use yet all-in-one software to speed up and protect Windows PCs as well as secure users' privacy. It provides the powerful 1-click approach to easily clean up junk files, leftovers, and invalid shortcuts, sweep privacy traces, remove spyware threats, accelerate Internet speed, manage startup items, and fix system weakness & security holes. Besides, Advanced SystemCare 13 offers many useful tools for a faster and safer PC, such as Performance Monitor, Win Fix, Internet Booster, Smart RAM, Large File Finder, Disk Cleaner, File Shredder, Software Updater, IObit Undelete, and DNS Protector.
About IObit
Founded in 2004, IObit provides consumers with innovative system utilities for Windows, Mac, and Android OS to greatly enhance operational performance and protect their computers and mobile devices from security threats. IObit is a well-recognized industry leader with more than 100 awards, 500 million downloads and 10 million active users worldwide.
www.iobit.com
Источник: [https://torrent-igruha.org/3551-portal.html]
.
What's New in the Advanced SystemCare Pro 13 Archives?
Screen Shot
System Requirements for Advanced SystemCare Pro 13 Archives
First, download the Advanced SystemCare Pro 13 Archives

You can download its setup from given links: