19.10.2019
Utility Archives
Apple + How To
Understanding Compressed Files and Apple's Archive Utility
Posted on April 18th, 2018 by Kirk McElhearn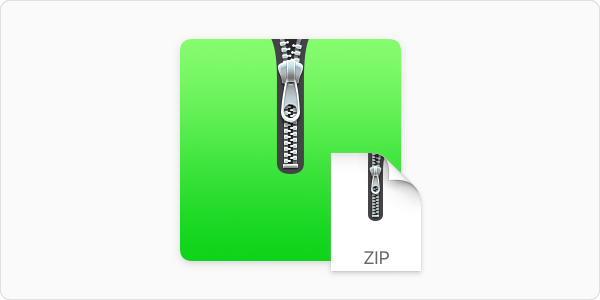 Compressed files and archives are very common. You certainly see these files often—they bear the .zip extension, and contain one or more files that have been shrunk to save space. Archives also allow you to store a number of files in a single file, making them easier to move around or send to others. (For instance, if you sent a hundred text files to someone by email without compressing them, it would be very annoying to receive that many attachments.)
Apple's macOS uses Archive Utility, a small app hidden away in an obscure folder and used to create and decompress .zip files. The Archive Utility app has some options that may make working with archives easier. In this article, you'll learn about compressed files and Archive Utility, and we'll show you some options you can adjust that will make working with compressed files easier.
Where is the Archive Utility?
Archive Utility is a small app hidden in a system folder. To access Archive Utility on your Mac, go to /System/Library/CoreServices/Applications. Here you'll find Archive Utility along with some other apps that you may occasionally use, such as About this Mac, Network Utility and Screen Sharing. All of these apps are generally launched in other ways, but not by double-clicking. About this Mac launches when you click the Apple menu and choose About this Mac. You can launch Screen Sharing by choosing Go > Connect to Server in the Finder.
How to use Archive Utility
In most cases, you'll use Archive Utility without launching it directly. If you want to compress a file, a folder, or a group of items, select it/them, then right click and choose Compress [item name]. Archive Utility launches, compresses the item(s), and then it quits.

The same is the case if you receive a .zip archive and want to expand it; just double-click the archive. Archive Utility opens, decompresses the archive, and then it quits.
However, if you need to create a lot of archives, you might want to launch the app, so you can drag files and folders onto its Dock icon and not have to bother with the contextual menu.
Archive Utility Preferences
If you launch Archive Utility, then choose Archive Utility > Preferences, you see a small window with a number of options.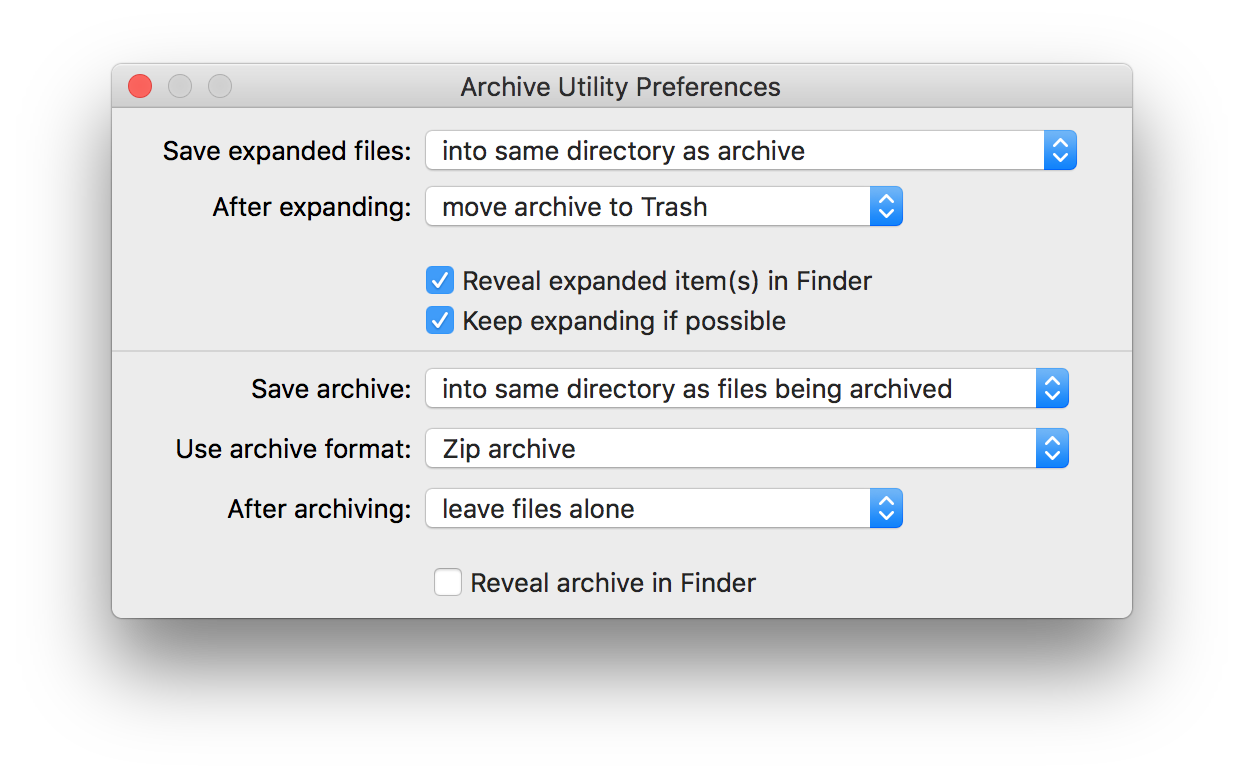 Archive Utility preferences can be very useful if you work with compressed files often. There are two sections to the window, with a horizontal rule dividing them. The top section controls what happens when you decompress archives. These settings are as follows:
Save expanded files lets you choose to save decompressed archives in the same folder as the original, or in a specific folder. If you want to use a different location, click the popup menu and choose Into, then select a folder. This can be useful if you get lots of .zip archives—such as daily backups, or database dumps—and want to automatically store them in a specific location after expanding them.
After expanding lets you leave the archive where it is, move it to the Trash, or delete it (without putting it in the Trash). You can choose one of these options from the popup menu. You can also choose Move archive to, and select a folder, if you want to save your archives.
Reveal expanded item(s) in Finder tells Archive Utility to select the decompressed file or folder and bring its window to the front. If you don't move the expanded files to a different folder, you probably don't need to change this.
Keep expanding if possible tells Archive Utility to decompress any archives it finds within an archive. This isn't common, but there are some types of archives that may present like this, such as Unix archives that first use a .tar compressed, then a .gz compression.
The bottom section, below the horizontal line, tells Archive Utility how to create compressed archives.
If you want to tell Archive Utility where to save the archives you create, from the Save archive popup menu, choose Into, then select a location. Otherwise, they are created in the same folder as the original items.
You can use one of three archive formats. Compressed archive, regular archive, and Zip archive.

A Compressed archive is a .cpgz archive. This is used on Unix and Linux, and you won't want to use this format unless you're sending archives to a computer running one of these operating system.
A Regular archive is a .cpio archive, which combines multiple files in a single file without compressing them. As above, you won't need to use this unless you're working with other operating systems.
A Zip archive is what we're all familiar with; it combines and compresses files, in some cases reducing the overall size by half or more. It both saves space, and makes it easy to manage large numbers of files. It's also the most compatible, being readable on both macOS and Windows.
After archiving, Archive Utility can leave files alone (do nothing to them), move them to the Trash, or delete them (without moving them to the Trash). You can also check Reveal archive in Finder to have Archive Utility show you archives when it's finished. This can be useful if you create large archives that can take several minutes to create, and want a sort of notification when they're finished.
I prefer to leave all the settings at their defaults, with the exception of the After expanding option; I've set that to move archives to the Trash. It's rare that you'll need to keep an expanded archive, and this saves time, because you won't have to manually trash them. You may want to change other settings, especially if you need to keep your .zip archives, or want to expand them in a different location from where you access them (often the Downloads folder).
Archive Utility is an essential tool. With the awareness that you can change some of its settings, you'll find it easier to work with archives.
---
New to Mac? Learn more macOS tips at Intego's New Mac User Center!
Want to get the most out of your new MacBook, iMac or other Apple computer? Whether this is your first laptop or you've just switched from Windows, there are a few things you should know about your new Mac, like basic keyboard shortcuts or how to use the various features macOS has to offer. Learn more about what your Mac computer can do for you at the Intego New Mac User Center:
Get started now!
About Kirk McElhearn
Kirk McElhearn
writes about Macs, iPods, iTunes, books, music and more on his blog Kirkville. He is co-host of the Intego Mac Podcast and PhotoActive, and a regular contributor to The Mac Security Blog, TidBITS, and several other websites and publications. Kirk has written more than twenty books, including Take Control books about iTunes, LaunchBar, and Scrivener. Follow him on Twitter at @mcelhearn. View all posts by Kirk McElhearn → This entry was posted in Apple, How To and tagged archive, Archive Utility, Compress Files, productivity. Bookmark the permalink.
Источник: [https://torrent-igruha.org/3551-portal.html]
,
Utility Archives
1) in Finder, use Go » Go to Folder to navigate to
and look for a file called 'Archives.prefPane'. Double click on it, enter your administrator password, and it will be installed into /Library/PreferencePanes/. (Copying it to ~/Library/PreferencePanes/ does not seem to work. You could probably also make a symbolic link, but really, the easiest way is simply to double click it.)
2) If you do not want to install the preference pane (it will be available to anyone who logs into the machine), you can set the preferences from within 'Archive Utility' itself. Just open the preferences, and you will see a window much like the preference pane shown above.
The trick is that Archive Utility usually only launches as needed, and then quits immediately. If you want to access the preferences, you'll need cat-like reflexes, or simply use Finder's Go ... Go to Folder option to navigate to "/System/Library/CoreServices" and launch it manually (LaunchBar users can also launch it by typing 'archive utility' or you can launch Terminal.app and type "open -a Archive\ Utility" to launch it.)
Being able to "fine tune" my Mac is one of the things I like the most, especially when it helps me keep free of hard drive clutter. I'm not worried about running out of hard drive space, I just try not to keep things I no longer need.
This is an update of a tip that I first learned about on macosxhints.com which is now part of Macworld.com. The tip is now somewhat out of date, but if you are using older versions of Mac OS X you might find the paths you need there.
Источник: [https://torrent-igruha.org/3551-portal.html]
Utility Archives
The Best File Archive Utility for Windows
Windows has a number of good file archiving and unarchiving utilities, and which one you use generally depends on what you'll be using it for. For most users, we recommend the simple, fast, and powerful 7-Zip.
7-Zip
Platform: Windows
Price: Free
Download Page
Features
Supports packing and unpacking of 7z, XZ, BZIP2, GZIP, TAR, ZIP and WIM formats, as well as unpacking of ARJ, CAB, CHM, CPIO, CramFS, DEB, DMG, FAT, HFS, ISO, LZH, LZMA, MBR, MSI, NSIS, NTFS, RAR, RPM, SquashFS, UDF, VHD, WIM, XAR and Z.
Supports creating archives with the very high-compression 7z format
AES-256 encryption support for 7z and ZIP formats
Integration with the Windows context menu
Powerful, lightweight command line version available (and cross-platform)
Where It Excels
7-Zip excels in its simplicity and minimalism. If you come across an archive on the internet, 7-Zip will more than likely open it in the blink of an eye and extract it anywhere you want. You can also compress files with 7-Zip right from the Windows context menu, and the 7z format is one of the best file compression formats around. Encryption for 7z and ZIP is a nice touch as well, and the command-line utility is great if you want to compress big files and move them across platforms.
Where It Falls Short
While 7-Zip is pretty powerful, if you need a bit more security in your archive creation, it doesn't offer a ton of options. Encryption is great, but only supports two formats and doesn't have some of the other features that programs like PeaZip do. Also, while we love its minimal UI, it isn't exactly the prettiest, and some people may prefer a more filled-out interface. Again, it's all in how you use it—most users will be more than content with it, and users that want more can move on to one of the other programs below.
The Competition
Windows has quite a few good file compression programs, so if you don't like 7-Zip, you have quite a few choices. PeaZip is a very popular option, mostly for its good-looking interface and its numerous security options, like two-factor authentication, secure file deletion, and comparison of files using hashes. It can pack into a few more file formats too. PeaZip's biggest downside is that it often seems a bit overwhelming for those that just want a simple file compression utility, and the UI can be a bit quirky at times.
Similarly, TUGZip is a very powerful tool for those that need it. It can not only handle a ton of different formats, but you can create scripts that allow for things like automated backups, which is pretty cool. On the other side of the coin, Universal Extractor is super simple and integrates with Windows Explorer, but can only uncompress archives—not create them.
Lastly, if you're only compressing and uncompressing files on Windows, some people prefer WinRAR to 7-Zip, though it does cost money to use. However, the RAR compression is pretty great, and even better than 7z in some cases.
Got a particular compression utility that we didn't mention? Be sure to let us know about it in the comments.
---
Lifehacker's App Directory is a new and growing directory of recommendations for the best applications and tools in a number of given categories.>
Источник: [https://torrent-igruha.org/3551-portal.html]
.
What's New in the Utility Archives?
Screen Shot
System Requirements for Utility Archives
First, download the Utility Archives

You can download its setup from given links: